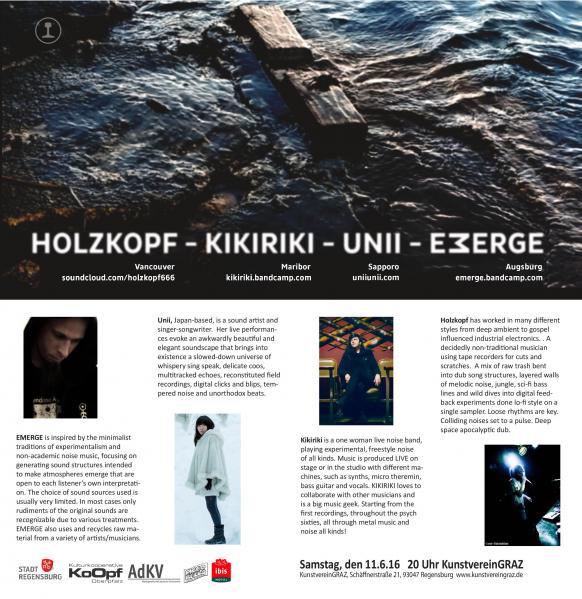 Klang Kunst Konzert
Kuratoren Albert Plank
Vier Musiker aus Kanada, Japan, Polen und Deutschland spielen einzelne Sets und miteinander:
In Spring 2016, Holzkopf will be touring in support of their completely new and most dense music yet. A mix of raw trash bent into dub song structures, layered walls of melodic noise, jungle, sci fi basslines and wild dives into digital feedback experiments done lo-fi style on a single sampler. Loose rhythms are key. Colliding noises set to a pulse. Deep space apocalyptic dub.
Beginning in 2001, Holzkopf has worked in many different styles with very little firm lines between them: from microsound experiments, (almost) slapstick collage and deep ambient music to gospel influenced industrial electronics, harsh noise dub and fast paced, cut-up dance music. A decidedly non-traditional musician, they have mainly used tape recorders for cuts and scratches as opposed to turntables, mixing board feedback and raw circuits in place of synthesizers and budget bin, low bit rate samplers.
Holzkopf has shared bills with Merzbow, DJ Olive, William Hooker, Venetian Snares, John Oswald, Knurl, Alan Moore, Richard Bishop, Scanner, Chris Corsano, Keiji Haino, Emil Beaulieau, Botborg, Sam Shalabi, Foxdye and many others. They have performed at events and festivals such as the Boreal Electro-Acoustic Music Society concert series (Edmonton, Canada), the Vancouver Jazz Festival, Vancouver New Music Festival, Big Joy (Vancouver, Canada), SOTU (Amsterdam, Netherlands), 4D (Chichibu, Japan), DRMK Noise Festival (Ljubljana, Slovenia), Blue Monday (Mexico City, DF), Body Machine Body (Tallinn, Estonia), Lab30 (Augsburg, Germany), Angura (Vancouver, Canada) among others. They have also performed at spaces like the Danish Institute for Electro-Acoustic Music (Aarhus, Denmark) as well as many artist run centres like Latitude 53 (Edmonton, Canada) and Modern Fuel (Kingston, Canada). During the touring grind, Holzkopf sometimes plays in a dozen countries over the course of a one month trip. They have played hundreds of concerts on farms, under bridges, and in squats, bars, galleries, and houses over several tours of Europe and Canada, and on trips to the USA, Japan and Mexico.
https://sites.google.com/site/holzkopf666/
https://soundcloud.com/holzkopf666
DUB TRACK:
https://soundcloud.com/holzkopf666/no-life-is-new-life
NOISE TRACK:
https://soundcloud.com/holzkopf666/drama-program
———————–
Kikiriki…
..one woman live noise band, playing experimental, freestyle noise of all kinds. Music is produced LIVE on stage or in the studio with different machines, such as synths, micro theremin, bass guitar and vocals. KIKIRIKI loves to colaborate with other musicians and is a big music geek. Startin from the first recordings, through out the psych sixties, all through metal music and noise all kinds!
https://www.facebook.com/KikirikiOneWomanNoise
https://kikiriki.bandcamp.com/
———————–
EMERGE is inspired by the minimalist traditions of experimentalism and non-academic noise music, focusing on generating sound structures intended to make atmospheres emerge that are open to each listener's own interpretation. The choice of sound sources used is usually very limited. In most cases only rudiments of the original sounds are recognizable due to various treatments. EMERGE also uses and recycles raw material from a variety of artists/musicians.
https://emerge.bandcamp.com/track/msl
https://emergeac.wordpress.com/
https://www.facebook.com/emerge.dependenz/
Unii is a singer, songwriter, electronic music composer (ambient, avant-garde pop) from Northern island of Sapporo city, Hokkaido, Japan. Her soft yet powerful voice mixed with electronic sound invites you to the artistic world of hers. Unii has been performing live not only in Japan but overseas in Europe and Asia, such as Singapore, Vietnam and China. Her music is accepted positively borderless-ly and her style is described as post Bjork that it floats us into dream-like soundscape.
Unii released her first album from independent label Elegant Disc "New world, sea and your eyes" (2011) which she did all the creation work from recording to songwriting. The second album "Long scene, before sunset" was released from her own label Nothernlights in 2014. New album will out this year.Unii's creation is fresh and she is pioneering her own style of music.
Performance introduction
Japan-based Unii is a sound artist and singer-songwriter Her live performances evoke an awkwardly beautiful and elegant soundscape that brings into existence a slowed-down universe of whispery singspeak, delicate coos, multitracked echoes, reconstituted field recordings, digital clicks and blips, tempered noise and unorthodox beats. 
das Konzert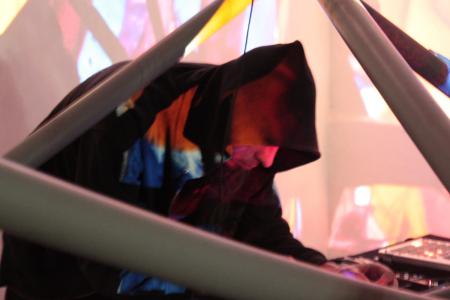 Emerge26585web.jpg
Sponsoren