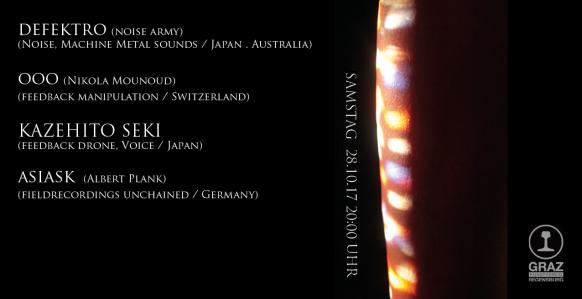 Künstler
Kuratoren Albert Plank
Samstag ,  28.10.2017  20:00
DEFEKTRO is a band characterized by harsh machine produced junk metal sounds, who have performed together for over 20 years. Hirofumi Uchino, a futuristic Dr Frankenstien, is the evil mastermind and father of the machines invented for the project.
The sound is produced by the machines, noise instruments and sonic weapons; then sampled, effectively chewed up and spat out for the pleasure of the audience. Over 30 recordings have been released on various labels around the world. Defektro has toured the United States in 2000, Australia in 2003, Europe in 2007 and Japan in 2009, and continues to perform domestically.
Contemporary society exists largely in an environment that relies on man made industry, and this environment has a tremendous influence on human sensitivity. Human beings can love and be afraid of the industrial environment, not unlike humanity from the past and present that loves nature as well as being fearful of it. Defektro presents this beauty and fear by extracting and rebuilding the essence of our industrial world opening the audience to many different layerings of what it might mean to exist at this time.
http://defektro.com/ http://lalweb.com/
+++
. . . is the moniker of Nikola H. Mounoud. Riding many musical waves as anywone do, works on the exploration of analog, digital and hybrid feedback (larsen) using a laptop computer and an analog mixer. A combination that makes a proper instrument to allows a sharp, precise and free tool as needed and wanted, of course well hewn from the coal face of improvisation !
Unlike chords, wind and skins of acoustic sound, feedbacks are unstoppable implacable sonic evolution (as long as electricity is present to feed it, obviously…). The final result is meant to be played and heard live as well as, time to time, shared over the internet.
Half of the unclassifiable Overload Collapse with Nicolas J. Fasnacht, they also publish texts for Multiple Tap's webzine 20Hz.
Former member of the trio The MERJ experience (2004-2007) with UrbanAddictive and VERJ=.
Organised numerous events such as "Nocturnes MadeOneShot", Festival INTHEGROUND in Fribourg, and others. Used to be a full time volunteer for the LUFF – Lausanne Underground Film&Music Festival, being part of the organisation crew as music co-programmer, sound technician and other little things since 2004. Now he focuses on the coordination of international exchange such as LUFF does TOKYO (2011-2012) and LUFF does HONG KONG (2016).
2004 was the blessed year when he started the [net]label merj.ch (mini-CD) that became the social experimental USB/Cloud project MEOVCO.com back in 2014. March 2016 the ephemeral project "Les Galeries MEOVCO.com" opened in Fribourg, Switzerland until January 2017 when "La Parøisse associative" and the MacBookRecycle projects took over. Co-founded the associative film, photography & cinema laboratory "on fait du l'art !". With visual artist Kusty back in 2009, working/producing several projects such as CINEMA (RE)TROUVE, KARAOKE PORNO and the live audiovisual project AVERY TINNITUS, merging 16mm analog film and sound.
http://ooo.meovco.com/
+++
KAZEHITO SEKI is a Voiz (Non-FX Voice Noise) performer who seeks for the sharpest sound by running about between Noise (Abstract / Nerves) and Hardcore (Concrete / Muscle) with no electronic FX but just a couple of amplified microphones. Kazehito belongs to a particular scene in Japan, influenced by hardcore music, subculture, and what a western would see as Tokyo's sonic ghetto culture. Kazehito's approach to the voice as an instrument demonstrates his flexibility, oscillating between subtle sinewaves and brutal white noise in a microsecond, like so: https://youtu.be/ZaGf9qQTX2o?t=9m44s
For more than a decade, Kazehito has been blasting his voice in a hardcore band. After several years of fusing his voice with electronic noises, in 2012 he started his solo activity without electronics, beside joining in a Voiz group called "Toyko Voiz Choir" organaised by William Tokuhisa. At the same time, he toured in Korea with his two bands: "Omawarisan" and "Ameri B.C". Nowadays, besides his solo project and various bands, he collaborates with various kinds of artists including musicians and dancers. He also teaches training and keeping the voice safe, because after all — the voice is and was (always) the primordial instrument.
https://ooosound.bandcamp.com/album/self-toxication-split-k-bit-strikes-s-hit-ooos-20
asiask is Albert Plank, Member of GRAZ, fieldrecorder and performer of unchained soundpool